Nadirshah debuted as a film director in 2015 with Amar Akbar Anthony, a comedy thriller starring Prithviraj Sukumaran, Indrajith and Jayasurya. It was a box office hit. Another hit followed the next year in the form of Kattappanayile Hrithik Roshan with a cast including Vishnu Unnikrishnan, Prayaga Martin and Lijomol Jose. Three years later in 2019 came Mera Naam Shaji in which Biju Menon, Asif Ali, Baiju, Nikhila Vimal and Mythili donned the main parts. His upcoming films which are in the making are Eeso starring Jayasurya, Jaffar Idukki and Namitha Pramod and Kesu Ee Veedinte Nadhan which brings veterans Dileep and Urvashi together for the first time.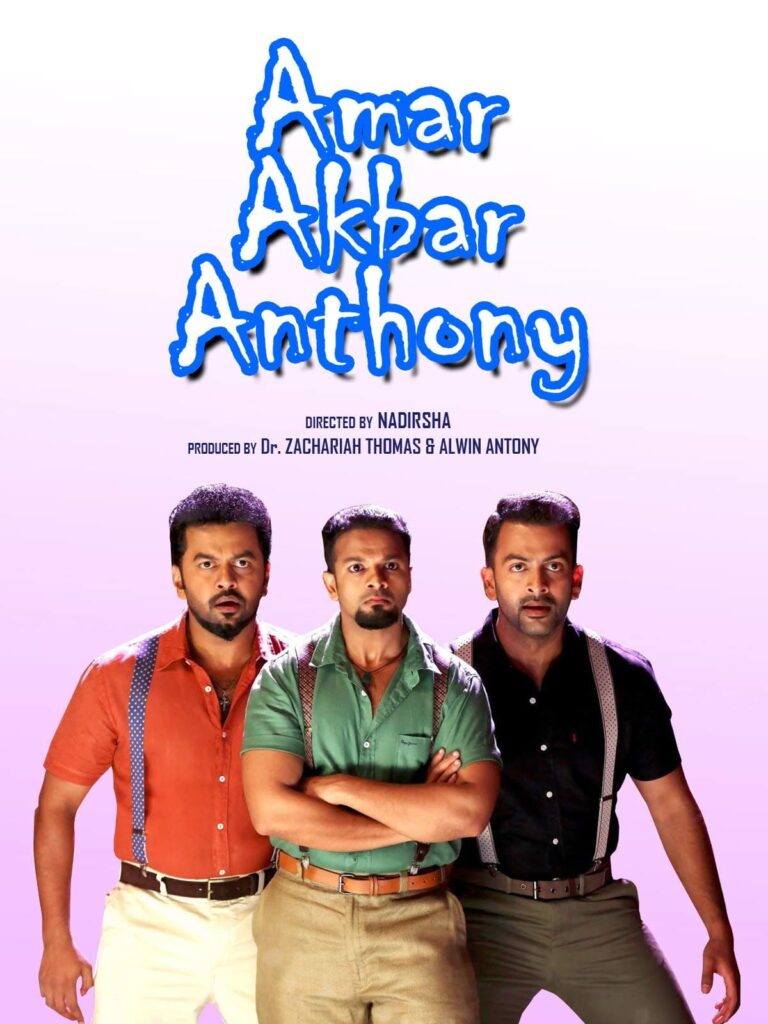 Amar Akbar Anthony (2015)
Amar, Akbar, and Anthony, are good friends hailing from Kochi who live without a care in the world in this Malayalam comedy. But an unforeseen event breaks their perceptions and beliefs and the ensuing story becomes the movie's plot. Prithviraj Sukumaran, Jayasurya, and Indrajith Sukumaran star in the film. Nadirshah also composed the songs' music while Bijibal provided the background music.
Kattappanayile Rithwik Roshan (2016)
Kattappanayile Rithwik Roshan is a Malayalam romantic comedy-drama film. Vishnu Unnikrishnan, Prayaga Martin, and Lijomol Jose appear in the film. The story of a young man who battles preconceptions in order to break into the film industry became a smash hit.
Mera Naam Shaji is a Malayalam comedy film produced by B. Rakesh under the Universal Cinemas label. Biju Menon, Asif Ali, and Baiju Santhosh play the main roles in the film. Dileep Ponnan wrote the screenplay, and Emil Muhammed composed the soundtrack. Nikhila Vimal plays the female lead in the movie which sees Sreenivasan in a significant role. This film tells of three young men with the same name whose lives get intertwined, resulting in a sequence of humorous events.
Kesu Ee Veedinte Nadhan (2021)
Kesu Ee Veedinte Nadhan, directed by Nadirshah and starring Dileep and Urvashi, is another upcoming Malayalam thriller film. Sajeev Pazhoor wrote the screenplay.
Eesho is an upcoming Indian Malayalam language thriller starring Jayasurya and Namitha Pramod. Arun Narayanan produces the movie which is written by Suneesh Varanad. The cameraman is Roby Varghese, the songs are created by Nadirshah, and the original background soundtrack is composed and produced by Rahul Raj